Quick Paws offers high-quality grooming for all house pets–even hamsters and iguanas! We have several professional groomers with more than thirty years' combined grooming experience and we are here to take care of all your pet grooming needs! Whether your dog or cat needs a thorough bath and brush (great for those fantastic shedders!), a full groom, or just a quick toenail trim, our grooming gurus have you covered. We use only the highest-quality natural products and our state-of-the-art facility provides a safe, spotlessly-clean environment for your pet. Stop in for a tour any time!
Things are busy at Quick Paws!  With the exception of some short-haired breeds, we have a waiting list for new grooming pets several years out for dogs and a month or two for cats.  If you're hoping to get your pet in for grooming with us, please call us at (406) 721-1943 to get on our wait list.  We'll call you if there's any way we can take on new clients in the future!
We're looking for an experienced groomer to join our team!  Click Here for more information and to fill out an application.
Grant
Our Senior Groomer Grant is a certified groomer with more than ten years' experience, animal behavior training, and has been a mentor for new groomers for five years. He is passionate about all breed of dogs and believes every dog should be treated as if they were his own. Grant enjoys new challenges in his grooming career, including different coat types and styles, and prides himself on attention to detail.  He strives to build a strong individual relationship with every pet and each family he meets.
Kendra
Kendra has had cats all her life and spends many hours fostering cats and kittens for the Humane Society of Western Montana. As one of our Supervisors, Kendra is already dedicated to our small company.  She's also always groomed her own pets, so when the option arose for her to groom cats for Quick Paws, it seemed like a perfect fit.  Sure enough, Kendra's calm and sweet demeanor is a perfect match for the sensitive personalities we often see in kitties!
Corina
Corina's passion for animals led her to foster dogs that need a little more TLC that most. Her foster dogs brought her to grooming because Corina found that helping a dog look and feel their best went a long way toward finding them their perfect forever home.  Gaining their trust along the way was in itself the most rewarding accomplishment.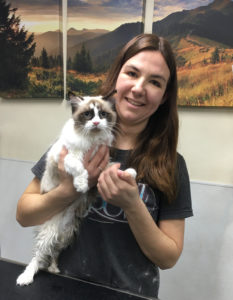 We require proof of current rabies vaccination for all groom pets and ask they be healthy enough for grooming.  If your pet is elderly or becomes ill before your appointment, please call us for grooming options.
As with our other services, Quick Paws has a cancellation policy for our grooming appointments. We ask our clients please give one day's notice of any changes to the appointment to avoid being charged the full price of the groom. If you're unable to cancel the day prior but call at least four hours in advance of the appointment, we may be able to discount the full groom price at the groomer's discretion. No-shows are charged the full price of the groom. We charge $10 for every 10 minutes a client is late for their grooming appointment. After 20 minutes, our groomer reserves the right to cancel the appointment in addition to the late fees and reschedule at their discretion. Quick Paws may waive the fees if it is feasible for us to do so. Walk-ins are welcome based on availability, and we'll do our best to fit you in at your convenience!
Whatever grooming needs your dog or cat may have, we're sure you'll be delighted with the results. Our grooming team looks forward to meeting you and your fluffy family members! For detailed pricing information and to schedule a grooming appointment, call us at (406) 721-1943.
DOGS
GROOMING
Haircuts for new dogs are currently on a 3-4 year wait list.  Please call us for details!  (406) 721-1943
A LA CARTE
($3 off any two Add-Ons / $5 off any three)
Nail Trim $14 / $18
Nails – Dremel $18 / $22 (+$5 if trim 1st)
Paw, Face, or Fanny Trim $14 – $22
Gland Expression $22 / $28
Teeth Treatment $10 / $14
Ear Cleaning $12
CATS
GROOMING
BATH, Short Hair  $45
BATH, Medium Hair $50-55
BATH, Long Hair $65-75
HAIR CUT  Bath price +$30-50
Just a shave $30-65
A LA CARTE
($3 off any two Add-Ons / $5 off any three)
Nail Trim  $18
Ear Cleaning $12
Mat Shave $20 – $30
Sanitary shave $18+