Your dog's days at Quick Paws are spent playing with doggie friends, supervised by our attentive staff at all times. Our indoor-outdoor facility has room for all the dogs to play, socialize, or simply relax on the raised cots. Our goal is to provide a safe, clean, enjoyable atmosphere so your dog can feel at home and enjoy every visit. Check out more photos of our daycare and the dogs on Facebook!
We limit our capacity for daycare and boarding, and our waiting list for new clients is usually several months (and occasionally as long as twelve months). Call now or click here to get on our waiting list!
We tuck the dogs staying over into individual, fully-secured sleeping spaces, each with a raised cot. We encourage you to bring your dog's bed or blanket, food, and a favorite toy so Quick Paws feels a little more like home! We'd love to show you around our 'Digs' including…
Two climate-controlled play rooms separate from the overnight lodging room
A variety of playgrounds: Play area limited to 50 dogs in several indoor and outdoor areas
Completely enclosed 1500 square foot K9-Grass ™ turf yard
Covered 350 square foot outdoor area, protected from the elements
"Takin' it Easy" lounge for older, smaller, or shy dogs to take a break, complete with soothing lavender essential oil and music
Bathing services: We can send your dog home clean and beautiful as well as happy and exercised
Health and safety is priority: A fully-equipped prep room keeps our supplies and toys clean and sanitized. Individual storage containers help insure your dog gets only the treats and food you intended. Only quick-release snap-buckle collars are allowed in the Daycare.
We also offer cat boarding!  If your kitty doesn't want to stay home alone while your dog stays with us, we have a fully-equipped completely separate cat boarding room!

Description of Services

Full Day: All day! Drop your dog off and pick her up any time during business hours
Half Day: Up to six hours, any time we're open
Hourly: Per dog, per hour
Overnight Lodging: Any 24-hour stay, any time between open and close, seven days a week
Bathing & Grooming: Let us send 'em home squeaky clean and looking marvelous!
Shuttle: Busy day? Let us provide transportation for your dog to and from daycare or boarding! Available daily
Quick Paws is open 365 days per year. Reservations for Daycare are not necessary, but please call ahead to book Lodging, Grooming, and Home Care. Paperwork and the initial introduction must be completed prior to all our services except grooming. Of course, we'll do our very best to accommodate last-minute requests, too. If you're an existing client, click here to schedule services, review your pet's history, or make a payment online.
On major holidays (New Years' Day, Memorial Day, Fourth of July, Labor Day, Thanksgiving Day, and Christmas Day) business hours are limited 8am – 6pm and we close at 6pm Christmas Eve and New Years Eve. 48-hours' notice is required for cancellation. Folks new to Quick Paws must purchase one of our services at least once to be considered an existing client.
The Introductory Interview
We limit our intake of new clients to be sure we give our absolute best attention to pets already in our care. Our waiting list for new clients is often as long as one year, so call soon and we'll do our best to get you in as soon as possible!
Once you reach the top of our waiting list, we'd like to invite you and your dog in for a visit to fill out paperwork and take a look around. You can ask questions, take a tour of our facility, tell us about your pet's preferences and needs, and decide whether this is a place your dog might enjoy. Appointments are required for these interviews and we'll do our very best to schedule you as promptly as possible. For the interview, we need: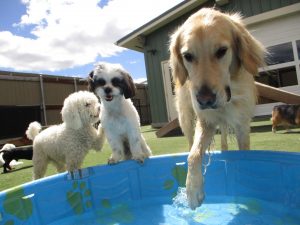 Proof of current Rabies, Distemper, and Bordetella vaccinations (your vet can fax records to us at 406-721-3200)
All dogs over six months of age to be spayed or neutered
All dogs to be at least four months of age and be "friendly and social" with other dogs
Parasite preventative (e.g. Frontline, Advantix…) recommended monthly but not required
If you're not sure if your dog will get along with other dogs, talk with us!  There may be simple ways to help your pet feel comfortable and safe. New dogs are invited to spend a free 'Half Day' at Quick Paws so you can rest easy knowing your pup enjoys his time with us.
Boarding: All the Details
We encourage all new dogs to take advantage of the initial "Free Half Day" we offer. It's our priority to make sure your dog is comfortable here and enjoys herself. This free half day, valid for the first visit any day in advance of boarding, is especially important before your dog's first overnight stay to allow her the opportunity to meet our staff and become familiar with our facility. We want to make sure she's comfortable in the larger group of dogs beyond her initial introduction. If your dog is especially nervous or anxious during her free half, we may ask you to help us brainstorm ways to make her more comfortable or maybe even find a more suitable alternative. Quick Paws allows dogs a great opportunity to socialize with other dogs, receive valuable human attention, and spend time outdoors, but we're not always a perfect match for every dog.
We recommend making boarding reservations well in advance of your scheduled plans because it is not uncommon for us to book up months before a busy summer weekend or holiday. Boarding is calculated on a 24-hour basis and extra time on the day of depart is calculated as daycare. For instance, if you drop your dog off for boarding at 9am and pick him up two days later at 3pm, the price would include two nights' lodging and six hours (one half day) of daycare.
We ask for at least two days' notice of any change in boarding reservations (less than two days' notice may incur cancellation fees). For any stay five nights or longer, we offer a free departure bath. Any stay seven nights or longer receives a 10% discount on the boarding rate. You are welcome to check your dog in and out from boarding any time during our business hours (Mon-Sat 7am-7pm and Sun 8am-6pm). If you plan to bring him after 5pm, we ask you please feed him dinner so he has time to get outside for a pit stop before we tuck him in for the night.
Your dog gets to run around and play for the day but gets his own separate place to sleep at night. We also tuck all boarders in for a nap after lunch to give them a break from daycare for part or all of the afternoon if they wish. In each kennel, we place a water bowl and raised cot. Please send along your dogs' regular food and any medication, preferably in the original packaging, plus anything you use to administer pills (e.g. cheese, pill pockets, etc). We don't charge an additional fee for administering medication and we are familiar with injections such as insulin (injection services are provided for a small fee).  We think it's important to maintain the consistent food and medication schedule your dog is already familiar with and we'll take detailed notes of your instructions when your dog arrives for boarding.
You're welcome to pack a bed, blanket, or t-shirt (anything familiar that smells like home) and any treats or snacks you'd like us to give your dog during boarding. We ask you please don't bring your dogs' bowls unless they're very particular about their dishes because we wash them after every meal, so its simply more efficient to use ours. Many people package food in individual bags while others simply bring the kibble bag or tub. It's helpful if you also pack the scoop if you use one to measure your dogs' kibble. Finally, please no crates (we are limited for space) and no rawhide chews (potential choking hazard). Staff do not stay overnight in our facility, but we have a full fire/alarm/security system and both the fire department and police station have blueprints to our building. Residential tenants are also on the property.
We offer many options for additional exercise, one-on-one time, snuggles, and gourmet treats if you'd like to include any during your dog's stay (check out the "Pamper your Pooch" section on the right, above). We can also add these amenities to your dog's schedule when they check in. We also offer shuttle services twice each day if you'd like us to pick up or drop off your dog from their stay with us. This is a handy option if your flight leaves very early or you are delayed returning to town.
We look forward to the opportunity to care for your dog overnight and get to know him better!
Pamper Your Pooch!
The Good Stuff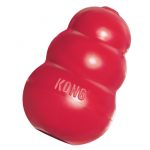 Stuffed Kong Kongs give dogs an outlet for their natural desire to gnaw. Stuffing flavor is your choice of EZ Cheez or gourmet biscuit! $5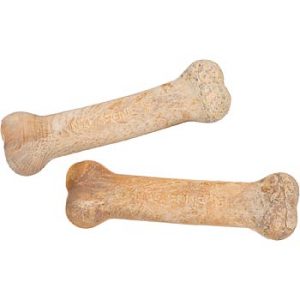 Nylabone We'll give your dog a brand new Nylabone (chicken or bacon flavor) for their stay.  They can even take it home with them! $6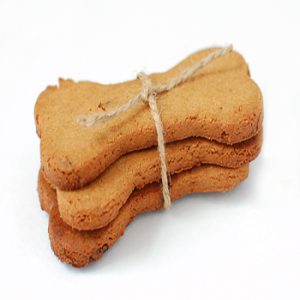 Gourmet Biscuits Let your dog have a tasty bedtime treat!  $1
One-on-One Time
$10/10 minutes
Play Ball Your dog, our guru, one ball. Nonstop!
Show-off Your dog can strut their stuff with a staff member in our fully fenced yard. He can practice his tricks, play tug, or just spend some time exploring.
Snuggles! Maybe your dog just needs some extra love and a few belly scratches!
Photo Update
$12 each
We'll email you a photo and an update so you can see how your dogs are doing during their stay!