Every member of the Quick Paws crew is devoted to providing a fun, safe experience for your pet.
We take the time to get to know each member of your furry family individually. Our goal is to be there for your pets when you're simply too busy to give them the attention they each deserve. Quick Paws is fully bonded and insured and our entire staff is trained in American Red Cross Animal First Aid.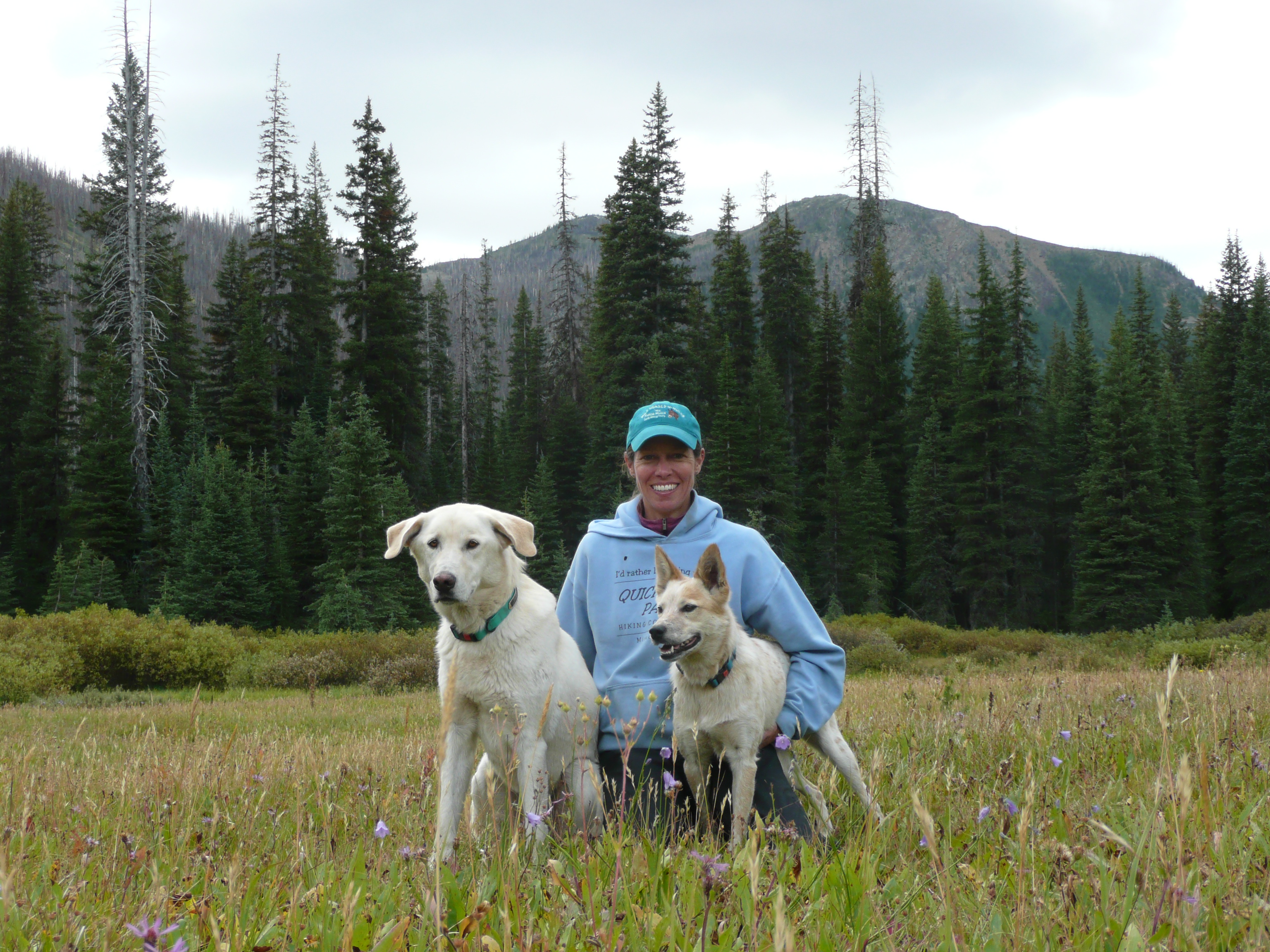 Charla's dog hiking adventures after college led to the inspiration of a lifetime, and her passion for this business continues to make it her favorite endeavor.  Charla is forever perfecting Quick Paws along with Idri ("AYE-dree," arguably the Worst Dog Ever for bad habits like chasing chickens and stealing bagels), and his sidekick and most devoted fan, Camas.  When not coordinating the day at Quick Paws, Charla and her husband Sam can be found at home on their ranch with Idri, Camas, far too many horses, a dozen cows, three hound dogs, and the world's fastest five chickens.
Mel is a born and raised Montanan, born in Billings but moved to Missoula to pursue a degree in Organismal Biology. She graduated in 2014 and decided to join the Quick Paws crew due to her love of dogs and an interest in their care. When she's not running the show as Quick Paws' Client Manager, you can find her hiking or relaxing with her black lab Gunnar!
Michael was born and raised in North Dakota where he received his degree in Zoology at NDSU. Mike, his partner Joy, and cat Archer longed for adventure though and to escape the prairies in search for mountains. They all moved to Missoula in 2016 and rescued a new family member, their dog Andi!  Mike grew up with several different pets so he feels right at home with his new doggy friends at Quick Paws. Mike enjoys everything Quick Paws has to offer and the new challenges as Senior Manager.
Jude and Willow moved to Missoula to pursue a degree in Wildlife Biology and fell in love with the area. By the time Jude graduated, his dream of working with dogs remained, so he applied at Quick Paws and adopted Armand, a Wirehaired Pointing Griffon. Jude, Willow, and Armand spend their spare time hiking, hunting, gardening, and learning all they can. You'll see Jude just as happily hanging out with the daycare dogs as he is helping out front as a supervisor.
It wasn't long after David moved to Montana from Nantucket, MA in 2003 that he knew this would be his forever home.  He enjoys hiking and throwing sticks with his crew Maeby and DeNiro, or any other adventuresome creature. When not enjoying the outdoors, you might catch David at a show or chilling on the patio (cat-io please, if you are talking to Wilson, Sylvie or Bodanga) with his partner Maura and their friends. David has quickly become one of the pack here at Quick Paws, becoming a hiker and most recently a supervisor.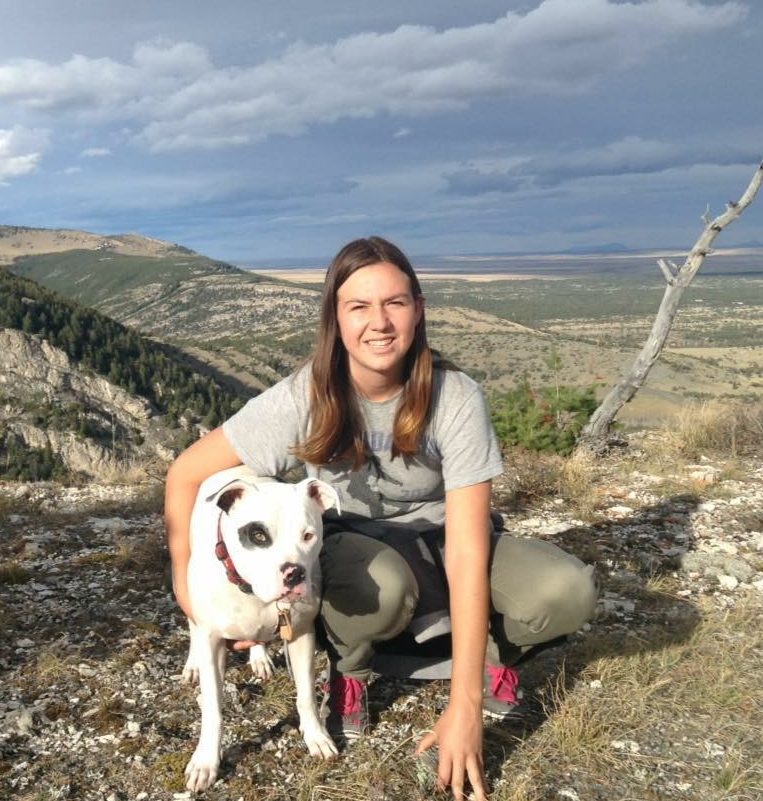 Zeke, a rescued California Pit bull, would probably describe Kendra as laid-back, adventurous, and passionate about animal rescue. Zeke enjoys following Kendra, a Montana native, on backpacking trips and horseback rides. Zeke also enjoys Kendra's volunteer work for the Humane Society of Western Montana fostering kittens (Zeke helps socialize them). Kendra can also be found pursuing a business degree at UM, volunteering for Big Brothers Big Sister's, snowboarding, and visiting theme parks.  She enjoys her new responsibilities as Supervisor at Quick Paws!
Luke was born in Billings and raised in Dillon. He has a passion for the outdoors and music, which is what brought him to Missoula. Luke enjoys online gaming with friends, but is also an avid outdoorsman and spends his free time floating the river on his paddleboard or adventuring with his friends and family.  As Coordinator, Luke's ongoing commitment to Quick Paws helps keep our workplace enthusiastic and productive.
Michelle is from upstate New York, went to college in Rochester and eventually moved to California with her pet snake Sebastian. She's been grooming pets for 25 years and volunteers for humane societies in her spare time. Michelle recently moved to Missoula with her husband Donny and son Joshua, nearly three and thinks he is the boss! Michelle is thrilled to be in Montana; it's been her dream for many years. Michelle loves hiking, fishing, hunting and camping so Montana is the place to be! Dreams do come true.
Although she grew up in Washington, Crystal was born in Bozeman and Montana has felt like home ever since. She moved back to Missoula in the fall and has been enjoying her time rediscovering why she fell in love with this town. Saturday markets, hiking the M and going down to the river are just a few places you might find her. She is thrilled to be working with animals again and looks forward to her time at Quick Paws.
Jaimie grew up in Eureka, Montana and moved to Missoula to attend college. She is currently pursuing degrees in chemistry and sociology. She has always loved animals and what the animal-human relationship can mean. She is very excited to spend her time with all of the dogs at Quick Paws!
Karrigan was born and raised in Montana and only recently moving to Missoula. She has a love for all animals and currently spends most of her time spoiling her Mainecoon/Tabby, Boss. Karri's other passions include hiking, biking, crocheting, reading, and just spending time with the ones she loves.
Allie has recently relocated to Missoula from San Clemente, CA with her boyfriend Kole, a Missoula native, and their dog 'Olive', who they rescued from Mexico. When she's not here pampering your pups in the grooming salon, you can find Allie exploring outside of town and trying her hand at freshwater fishing!
A western Montana native, Tristyn grew up with a love of animals and the outdoors.  After helping foster nearly 40 kittens for HSWM, little Lando stole her heart and Tristyn decided to keep him! Aside from working with animals, Tristyn is very passionate about photography and hiking.  You can catch her out on the trail, taking some funky film photos all around Missoula, or in the daycare at Quick Paws taking some extra cute snapshots of the dogs for our Facebook page!
Born and raised in Dallas, Texas, Ashley graduated from Texas A&M in 2012 with a BA in Anthropology. She moved to Montana in 2015 for a change of scenery and to pursue her art. She fell in love with the state and has been here ever since, working in her art studio or outdoors camping, rockhounding, or picking wildflowers to press. Ashley also loves to travel and attend music festivals when time and money allow!
Haleigh was born and raised in Indiana, but tired of the corn and bean fields and moved to Missoula in 2015.  Haleigh pursued a degree in Literature and the Environment and worked as an education intern in Yellowstone National Park and at the International Wolf Center in Minnesota during the summers.  Haleigh continues to hold a passion for wolves and other canines and seeks to educate and spread awareness about them through her writing and other outlets. She graduated in the spring of 2019 and took a great opportunity to work with dogs at Quick Paws, and also enjoys reading, writing, drawing, hiking, camping, photography, and wildlife spotting!
Siobhan moved to Missoula from New York in 1985 and loves to spend her free time hiking with her dogs Charlie and Pippa or knitting with her friends.  She lives in Missoula with her husband and has two grown children starting their own careers.
Tannah is the inspiration behind Quick Paws Hiking Company. She found Charla in New Mexico in 2001, a puppy with boundless energy and a gift for sprinting. Tannah simply wouldn't settle down without a good romp in the woods with her pals, and so Quick Paws came to be. Tannah loved to run more than anything in the world, and her enthusiasm for the mountains will forever be missed. Her spirit carries on in our hikes…running circles around us, as always.