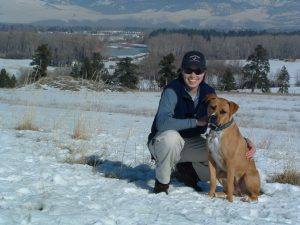 When I was in my mid-twenties, I was laid off from my biology job and moved home to Montana, where I announced to my parents I wanted to walk dogs for a living. Everyone thought I was crazy, and none of us ever dreamed that me, a Subaru, and a loveable mutt named Tannah were the beginning of something so magical.
We've expanded a lot since then and now offer everything from boarding to daycare to grooming to home care for all house pets. Quick Paws is led by a dedicated team of managers and we're proud to offer full benefits and competitive wages to our enthusiastic and pet-loving employees. Hiking dogs off-leash in the mountains was a passionate hobby that turned into the career of a lifetime for all of us.
Since that spring of 2004, Missoula has grown and open space on which dogs can run freely has become scarce. Public lands are open to trappers and private land has become subdivided and bordered by busy roads. After an amazing sixteen years of adventure, I regret the logistics of dog hiking in Missoula is no longer feasible and we've discontinued this service.
Although this decision represents a fundamental shift for our small company, it offers a great opportunity to explore other options. We continue to look for new property on which our client dogs can run to their heart's content and romp safely with their friends. Missoula may be changing, but our love for the mountains and our dedication to your pets will never fade. I will keep you posted!
— Charla